Covid-19 Day 36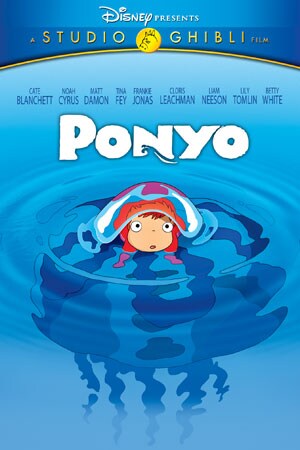 Ponyo, initially titled in English and released in Asia as Ponyo on the Cliff by the Sea, is a 2008 Japanese animated fantasy film written and directed by Hayao Miyazaki and animated by Studio Ghibli,
It is the eighth film Miyazaki directed for Ghibli, and his tenth overall.
The plot centers on a goldfish named Ponyo who befriends a five-year-old human boy, Sōsuke, and wants to become a human girl.
It earned over US$201 million worldwide[2] and won several awards, including the Japan Academy Prize for Animation of the Year.
---
Inventive, exciting mystical and just plain great. One of their best EVER. I'm sure I saw this at an Armageddon event at least a decade ago, so it must have been when it first came out.
Liam Neeson is immediately recognizable as the Wizard. Tina Fey is the mother, Lisa. Matt Damon also stars, with Cate Blanchett as Ponyo's mother. And Lily Tomlin, Betty White and Cloris Leachman star as three old women.