The Fifth Season (The Broken Earth #1)
N. K. Jemisin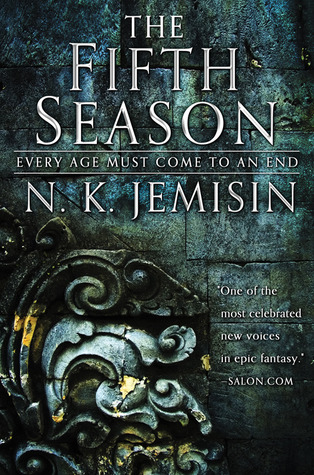 Read as part of the Sword and Laser March pick.
Three terrible things happen in a single day. Essun, a woman living an ordinary life in a small town, comes home to find that her husband has brutally murdered their son and kidnapped their daughter. Meanwhile, mighty Sanze — the world-spanning empire whose innovations have been civilization's bedrock for a thousand years — collapses as most of its citizens are murdered to serve a madman's vengeance. And worst of all, across the heart of the vast continent known as the Stillness, a great red rift has been torn into the heart of the earth, spewing ash enough to darken the sky for years. Or centuries.
This book opens with a huge info-dump of a prelude. Then it starts as the main viewpoint character in present tense, second person style. Not normally a prose style I like, but the skills of the author pull it off. Soon, however this would get annoying and pull me out of the story each time it was used.
This is grim-dark fantasy and very grim. It starts with the murder of a child and doesn't look up. The story is very slow to get started and soon becomes apparent that everything will be stretched out to make this a long fantasy book. One of the main problems I had was that the 'magic' employed by the characters was just out of proportion to actual human abilities, apparently people can cause earthquakes !
The lack of any wit in the characters, the slow pacing and weird magic just got boring and I gave up after getting about 25% through.