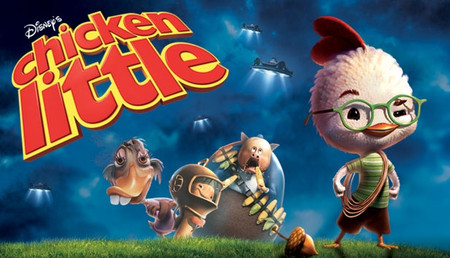 Chicken Little is a 2005 American 3D computer-animated science fiction comedy film, produced by Walt Disney Feature Animation and loosely based on the original fable of the same name.
It is the 46th Disney animated feature film and was directed by Mark Dindal from a screenplay by Steve Bencich, Ron J. Friedman, and Ron Anderson.
Cast:
This one is fun and irrelevant. It starts off in the traditional manner, with Chicken Little predicting that the sky will fall. Then it's a school nerd romance story. This morphs into a sports movie, then finally when the Aliens turn up, an alien invasion movie.
Finally, remembering that Disney has some moralizing to do they throw in a bit of Father/Son relationship advice.
Overall it's an entertaining film, but it is all over the map in terms of genre and tone.