Fantasia 2000 is a 1999 American animated film produced by Walt Disney Feature Animation.
It is the 38th Disney animated feature film and sequel to Fantasia (1940). Like its predecessor, Fantasia 2000 consists of animated segments set to pieces of classical music…
Beethoven – Symphony No 5
This is an abstract segment created by Pixote Hunt with story development by Kelvin Yasuda. The segment combines hand drawn backgrounds of butterfly like things using pastels and paint that were scanned into the Computer Animation Production System (CAPS). Computer-generated imagery of abstract shapes and effects, which were layered on top.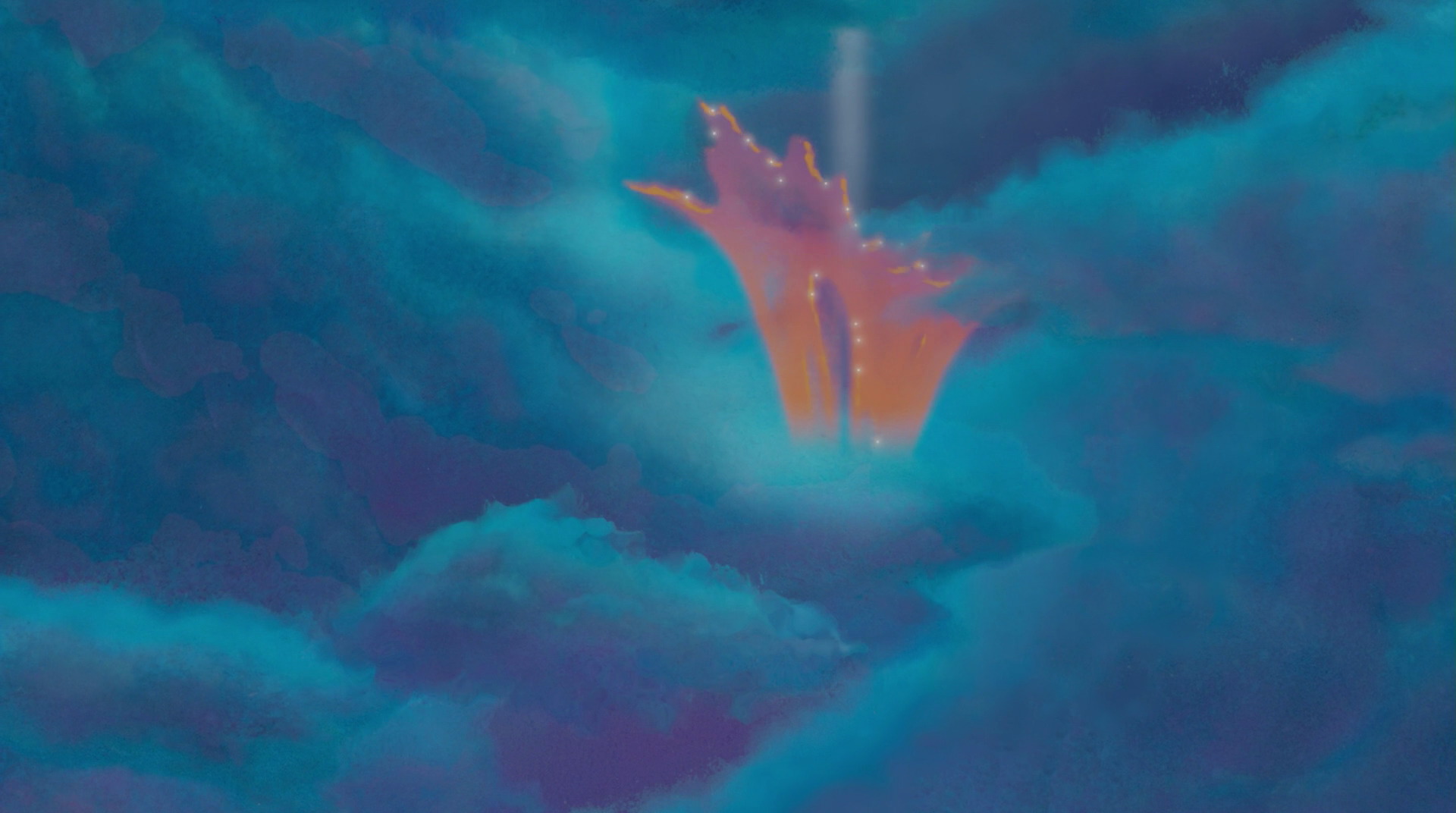 Pines of Rome by Ottorino Respighi
A family of humpback whales are able to fly. The calf is separated from his parents, and becomes trapped in an iceberg. Eventually, he finds his way out with his mother's help. The family join a larger pod of whales, who fly and frolic through the clouds to emerge into outer space. Introduced by Steve Martin and Itzhak Perlman. Probably my favorite, very inventive and obviously CGI.
Rhapsody in Blue by George Gershwin.
Set in New York City in the early 1930s, and designed in the style of Al Hirschfeld's known caricatures of the time, the story follows four individuals named Duke, Joe, Rachel and John, who wish for a better life. The segment ends with all four getting their wish, though their stories interact with each other's without any of them knowing.[3] Introduced by Quincy Jones with pianist Ralph Grierson.
Piano Concerto No. 2, Allegro, Opus 102 by Dmitri Shostakovich.
Based on the fairy tale "The Steadfast Tin Soldier" by Hans Christian Andersen, a broken toy soldier with one leg falls in love with a toy ballerina and protects her from an evil jack-in-the-box. Unlike the original story, this version has a happy ending. Introduced by Bette Midler featuring pianist Yefim Bronfman.
The Carnival of the Animals by Camille Saint-Saëns.
A flock of flamingoes tries to force a slapstick member, who enjoys playing with a yo-yo, to engage in the flock's "dull" routines. Introduced by James Earl Jones with animator Eric Goldberg.
The Sorcerer's Apprentice by Paul Dukas.
This is the only one featured in both Fantasia and Fantasia 2000. Introduced by Penn & Teller.
Pomp and Circumstance – Marches 1, 2, 3 & 4 by Edward Elgar.
Based on the story of Noah's Ark from the Book of Genesis, Donald Duck is Noah's assistant and Daisy Duck is Donald's wife. Donald is given the task of gathering the animals to the Ark, and misses, loses, and reunites with Daisy in the process. Introduced by James Levine featuring Mickey Mouse and Donald Duck.
Firebird Suite by Igor Stravinsky.
A Sprite is awoken by her companion, an elk, and accidentally wakes a fiery spirit of destruction in a nearby volcano who destroys the forest and seemingly the Sprite. The Sprite survives and the elk encourages her to restore the forest to its normal state. Introduced by Angela Lansbury.