Star Wars Rebels Series 3
3.16 "Legacy of Mandalore"
Sabine, Ezra, Kanan and Rau travel from Atollon to Krownest in the Mandalore sector in order to straighten out matters with Sabine's estranged family. However, the initial reception is quite hostile, since Sabine is still considered a traitor to her family due to her defection from the Empire.
3.17 "Through Imperial Eyes"
An Imperial light cruiser over Lothal intercepts a shuttle fleeing the planet. On board are Ezra Bridger (disguised as a bounty hunter) and the droids Chopper and AP-5. Ezra tells Agent Kallus that the Rebels believe the Empire has intercepted his last transmission as Fulcrum, and they have come to help him defect if his cover is blown.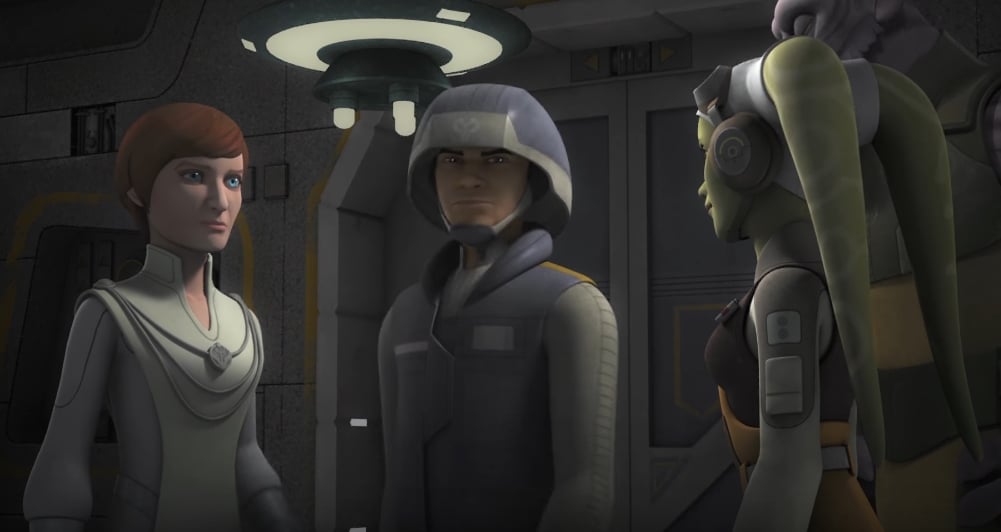 3.18 "Secret Cargo"
The crew of the Ghost waits in a junk field to rendezvous with and refuel a Rebel ship carrying a secret cargo. The Ghost is found by an Imperial infiltrator probe droid, which the crew manages to destroy, but not before it transmits their location to the Empire. The Rebel ship arrives, and the "cargo" is revealed to be Senator Mon Mothma.
3.19 "Double Agent Droid"
Chopper, AP-5, and Wedge are sent on a mission to an Imperial facility to steal access codes for the factory on Lothal. AP-5 manages to successfully locate and steal the codes.