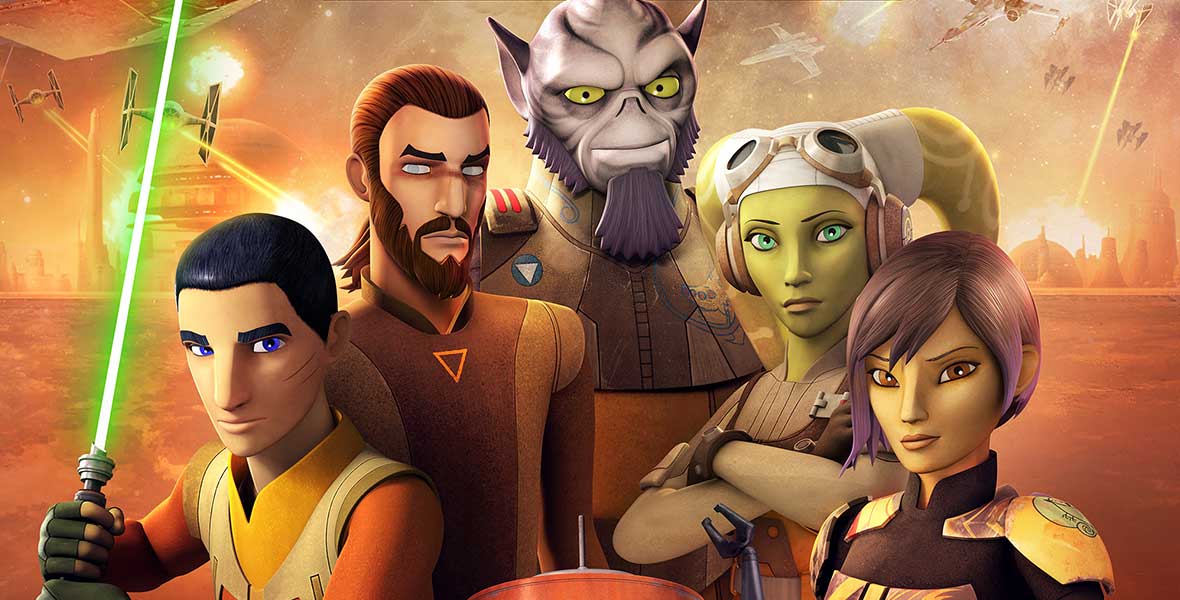 Star Wars Rebels begins fourteen years after Revenge of the Sith and five years before A New Hope, Rebels takes place during an era when the Galactic Empire is securing its grip on the galaxy. Imperial forces are hunting down the last of the Jedi Knights while a fledgling rebellion against the Empire is taking form.
1.01-02 "Spark of Rebellion"
Street thief Ezra Bridger is an orphan on Lothal, an Outer Rim world. He interferes with the theft of blaster rifles from the Empire by three Ghost crew members: leader Kanan Jarrus, Mandalorian sharpshooter Sabine Wren, and Last strongman Garazeb "Zeb" Orrelios. Ezra ends up stuck with the crew while making their getaway and also meets Twi'lek pilot Hera Syndulla and her C1 astromech droid Chopper.
These first two episodes act as an introduction to the main characters. The animation has a different style to 'The Clone Wars' and the tone is lighter, with more jokes and a less series version of the action and violence. It feels more like a teenage video game.
1.03 "Droids in Distress"
The Ghost crew steal a shipment of disruptor weapons from Minister Maketh Tua to sell to Vizago, accidentally bringing the Imperially serviced droids C-3PO and R2-D2 with them in the process.
1.04 "Fighter Flight"
Chopper ends up causing a fight between Ezra and Zeb, so Hera sends them out on a supply run together to keep them from bickering with each other, specifying that they do not return without a rare meiloorun fruit.
1.05 "Rise of the Old Masters"
The rebels discover an underground transmission reporting that Jedi Master Luminara Unduli has survived Order 66 and is being held in a high-security Imperial prison on Stygeon Prime.