Troika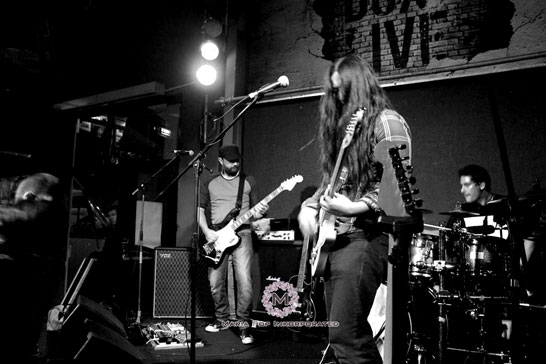 After browsing Post-Rock bands from Estonia to Chile, I came upon a band from New Zealand. Then I found it was from Christchurch and further, that it had a show due on 21 July.
The band is Troika and it would be performing at the New City Hotel. There were three bands playing that night. Fortunately Troika was up first, starting at 8:30pm and doing a one hour set.
The first song immediately sounded like early Pink Floyd, with a big rattling drum sound.
The band comprises:
Dorian Lemonnier on drums/vocals.
Alan Kang on guitar/vocals
David Webber on bass/vocals
The music is intense post-rock. Guitar and Bass work closely together to create a wall of sound, and in the conclusion of each piece, an intense LOUD wall of sound. In fact the volume was so loud for the small pub setting, it could have been wound down a few notches.
The drums were also loud and closely miked, although this didn't stop Dorian from hitting them very hard. I began to wonder what they would have sounded like without amplification.
They appeared to have problems with the microphones for vocals as when they did sing on occasion it was muffled and unclear.
All guys are great musicians, and the songs, while standard fare for the genre showed originality and flair. The three albums are a great example of modern Post-Rock.
They will be playing again on August 4.