Veep 3.04 – Clovis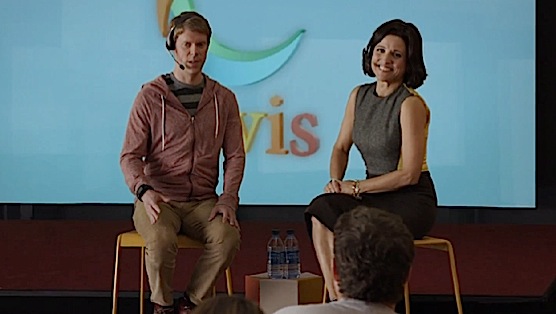 On a fundraising trip in Silicon Valley, Selina is challenged by an anti-fracking mom and visits the campus of Clovis, a tech company with an ambitious young CEO, Craig. At Clovis, Amy is offered a job; In D.C., Jonah makes a crude viral video of the Selina-mom encounter, and Dan, with Ben's help, gets an idea for a torture rumor he can spread against Chung through Jonah. Gary begins to show signs of shoulder pains.
I'm taking these people back to dial-up, you know what I mean? They think they're kings of America.
 I know you're walking around here like you're C-3PO with a big brass shiny erection, but I've got news for you, this is kindergarten for cyber-brats. And I'll tell you something else: if you're over 30, check it out. [indicates an elderly cleaner nearby] That's where you're headed my friend, if you work here. I gotta go to the bathroom. Do they have a bathroom here, or do they put their turds up in the cloud?