Veep 2.07 – Shutdown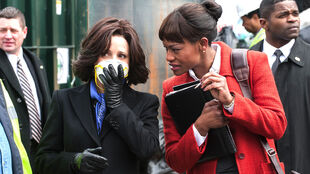 With D.C. in the midst of a government shutdown, Selina is forced to furlough some of her staff. Danny Chung takes advantage of the shutdown after a man is killed by a bear in Minnesota; Gary and Jonah go on a run to retrieve Selina's trash; Dan tries to woo Sidney Purcell; Also, Andrew and Selina are starting to have sex again.
Ben: Madam Vice President, greatest respect, but it has been the job of the VP over the ages to take it in the ass to save the president.
Selina: Yeah, let me tell you something. This ass is closed for business. This ass is in clench-down. I don't want to be a decoy. Let the president take it in the ass. He might like it.
Yeah, I know he's fucking furloughed because I'm the fucker who furloughed him.
You know, I didn't realize how good I was at this job until someone else did it so badly.