The Gunslinger (The Dark Tower #1)
by Stephen King (1982)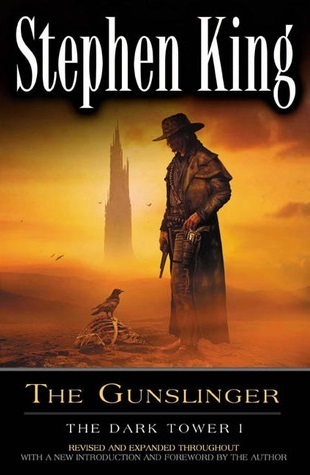 Roland Deschain of Gilead is the Last Gunslinger. He is a haunting, solitary figure at first, on a mysterious quest through a desolate world that eerily mirrors our own. Pursuing the man in black, an evil being who can bring the dead back to life, Roland is a good man who seems to leave nothing but death in his wake.
---
This is being read as part of the Sword and Laser August Book read.
It was also started in anticipation of the upcoming 'The Dark Tower" film starring Idris Alba.
This is one of King's first books. The last of his I read was "The Tommyknockers" in 1991. That book was so long and meandering I didn't finish it. At the time I thought King needed a decent editor to cut back on the filler and quicken the pace.
This book is much shorter (60,000 words). Unfortunately it doesn't help. A gunslinger follows a man, who we don't know. This is grim, dark and has no sense of an interesting story to come. I just couldn't get with the tone, so I gave up !