Space Team
by Barry J. Hutchison (2016)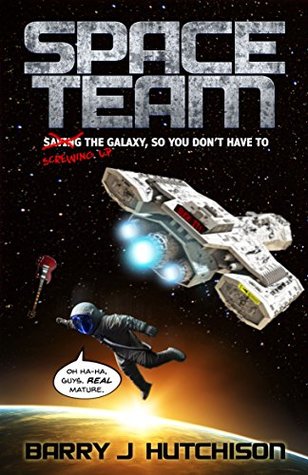 Cal Carver is having a bad day. Imprisoned and forced to share a cell with a cannibalistic serial killer, Cal thinks things can't possibly get any worse.
He is wrong.
It's not until two-thirds of the human race is wiped out and Cal is abducted by aliens that his day really starts to go downhill.
Whisked across the galaxy, Cal is thrown into a team of some of the sector's most notorious villains and scumbags. Their mission should be simple enough, but as one screw-up leads to another, they find themselves in a frantic battle to save an entire alien civilization – and its god – from total annihilation.
---
The author appears to like a comparison to Terry Pratchett. It's not a good comparison as Pratchett's humour comes from the voice of the narrator. A better comparison would be to Harry Harrison's 'Bill the Galactic Hero' series or Simon Haynes 'Hal Spacejock' series where the humour comes more from the characters and their interaction.
The only criticism  would be that sometimes the talking is at the expense of the plot moving along. Otherwise, a light and fun read.