That Bloody Woman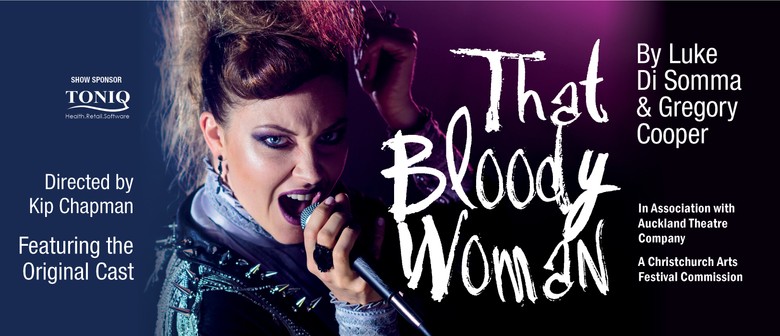 By Luke Di Somma & Gregory Cooper
Directed by Kip Chapman
This is the best show I have seen for a long time (probably since Grease a few years ago). But don't ask me.. here are a few more who agree….
---
In Association with Auckland Theatre Company A Christchurch Arts Festival Commission Suffragist, activist and cyclist Kate Sheppard transforms from a face on the $10 note into a feminist firebrand raising hell in this red-hot new rock opera.
Leading the charge to win women the vote, Kate takes on the patriarchy, public opinion and even Prime Minister Richard "King Dick" Seddon. The smash hit of the 2015 Christchurch Arts Festival returns to take a fresh look at one of Christchurch's favorite daughters brought to life: loud, proud and in your face.
---
Reviews
Sheppard musical revival is a righteous, rocking instant classic
It all started in a Christchurch tent.
I first reviewed rock musical That Bloody Woman in August last year when it debuted in a speigeltent in front of a couple of hundred people during the Christchurch Arts Festival.
It was immediately obvious that this show was something very special that deserved a bigger life beyond its three-night run in Christchurch.
Since then, That Bloody Woman has been restaged and amped up for a nearly three-week run at the Auckland Theatre Company that attracted rave reviews and sold out houses. Now, it returns to Christchurch for a month-long run at The Court Theatre.
It is a spiritual homecoming for the punk rock musical about Christchurch suffragette Kate Sheppard and her battle to win women the vote in 1890s New Zealand.
I was curious and a little nervous to see how this punk-infused and hand-made musical would transfer to a larger theatrical stage from its speigeltent roots.
I need not have worried. The show is as righteous, witty, vivacious and moving as it was on its debut.
In short, That Bloody Woman is an instant classic.
The transfer to a larger stage with bigger production values feels like a natural evolution for a show that is obviously going places. In the smaller venue last year, some of the rock numbers pinned you back in your seat a little, but in a larger venue the show is able to unfold its wings and really soar.
And soar it does. The infectious, urgent and catchy tunes gave me goosebumps several times, while some of the more moving numbers brought me to tears.
That Bloody Woman is an intoxicating mix of irreverent humour, heartfelt political righteousness and genuinely moving sentiment. Composer Luke Di Somma's knack for a catchy and enchanting tune is equally matched by playwright Gregory Cooper's talent for a pithy one-liner and ability to capture history in a respectful but entertainingly irreverent, and sometimes profane, manner.
These rocking tunes and smart lines are brought wonderfully to life by an incredibly talented cast, led by the enchanting Esther Stephens as Sheppard, and an awesomely tight four piece rock band called the Hallelujah Bonnets.
And Sheppard is given a perfect antagonist in the form of Geoffrey Dolan's Richard 'King Dick' Seddon. He is every inch the strutting, bearded, beer-bellied embodiment of the patriarchy Sheppard was fighting to overcome.
This is a show that is unafraid to be both profane and profound as it brings to vivid life the powerful motivations and yearnings behind the groundbreaking suffrage movement.
This is a righteous rock musical with wit, verve, humour and heart. I urge you to see it.
I now look forward to seeing this show soar even higher. It feels ready to take on the world.
Review by Charlie Gates, The Press, Fairfax Media
---